Individual Application
Download the 2023 Individual Application .
You can also register online at www.pretzelcitysports.com.
Sunday, August 20, 2023 at Gring's Mill Park
Registration begins at 8:00 AM
4-mi Race Time begins at 9:30 AM
2-mile Walk Start Time: 9:45 AM
Kids Fun Run, (approx. 1600 feet) for children 12 and under, will start after Race/Walk.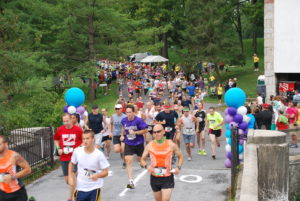 Entry Information
Runners: $25/person, if postmarked by Aug. 4, 2023, or $30/person if postmarked after Aug. 4, 2023 (including day of race)
Virtual 4-mile race: No Virtual race in 2023
Walkers: $14/person, if postmarked by Aug. 4, 2023, or $18/person if postmarked after Aug. 4, 2023(including day of race)
Kids Run: $5/person (does not include T-shirt but all kids get a swag bag)
All pre-registered participants (walkers and runners) will receive a Run4Sam t-shirt **. Those registering on race day will receive a t-shirt while supply lasts. All kids will receive a fun grab bag.
**Run4Sam's mission has always been "giving back" to the community and its park systems. Our proceeds support a scholarship, major improvements and public safety projects in the parks as well as significant donations to several charities each year. You can help us to continue this mission by opting out of a T-shirt which will allow us to increase this support. Thanks in advance for your consideration.
Awards
Top Overall Male/Female.  Receive Trophy
Top 3 Males/Females in each Age Group. Age groups consist of: 18 & under, 19-29, 30-39, 40-49, 50-59, 60-69, 70 & over. 
All winners receive medals!
Grab bags for all Kids Run finishers!
Questions?
Contact us by email, or by phone: Peggy Reed, Race Director (610) 698-6165.
Checks payable to:
Run4Sam, Inc
311 Sunshine Rd
Reading, PA 19601